County Awards Season 17/18
Arthur Evans Memorial Trophy
This is a very special award, kindly donated by Jean Evans in memory of her husband Arthur. The Trophy has been awarded every year since 1997.
The recipient of this award is chosen by the President, Secretary and the Chairman in recognition of services to Cheshire Badminton.
This year the award goes to a Vice President of our Association and I am delighted to be able to announce that the Arthur Evans Memorial Trophy 2018 goes to ………ROGER WESTMORLAND.
Sadly, Jean wasn't able to attend the AGM and present the award in person, but it was my pleasure to present it in her absence.
In recent years, this award has generally gone to active members of the County but there has been no real reason for this, as the main consideration is that someone has served our Association well, both on and off court.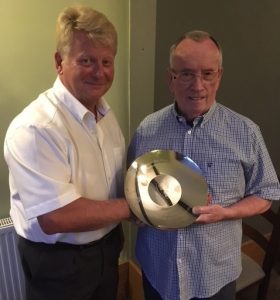 Roger has had a fantastic playing career and was a real ambassador for our County during his many years representing Cheshire and participating on the National tournament circuit.
He was a Council member for 12 years and during that time, held many roles and served on numerous sub-committees including Selection and Team management.
His job then took him away from Cheshire for many years, but he always kept in touch.
A serious car accident sadly curtailed his playing career but never dampened his enthusiasm for the game.
Marjorie Bryce-Smith Trophy
This is a very important award that was first presented in 1964 to Tony Jordan. Annually, each League submits their nomination based on the following criteria: playing ability, service to the game, sportsmanship, club loyalty and turnout.
This year, we had several strong candidates put forward by each of our Leagues, but this person received our unanimous support and I am pleased to announce that The Marjorie Bryce Smith Trophy 2018 goes to  …… ANDY MEREDITH
Andy started playing badminton in the mid 70's at the tender age of 10, when he joined a local junior coaching group.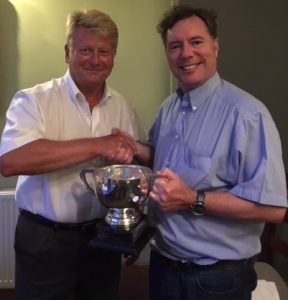 He rapidly began to show talent and then joined his first adult club, Upton BC, playing senior badminton from the age of 14.
In the late 80's, Upton BC folded, and he moved on to St. Peters BC where he is actively involved in all club matters and is affectionately known as 'Mr St. Peters'
He is still there today and turns out, as keen as ever, week in, week out in the Wirral Badminton League.
Over recent years, Andy has become heavily involved with the Wirral League and heads up the Wirral Badminton Development Group, where he is very effectively building up relationships with BE, WBC, local schools and clubs, to promote badminton at all levels but particularly at grass roots junior level.
He was also instrumental in carrying out a survey of all Wirral clubs and players, to gauge opinion and seek people's views on a potential restructure of the League
He puts in countless hours on behalf of these groups and the Wirral League had no hesitation in proposing him for the Marjorie Bryce-Smith Award.