Cheshire 1st Team win Division 1 North

Cheshire's 1st Team finished a great season with a a 7-4 win against Nottinghamshire at the Leigh Sports Village. They finished undefeated on 52 points, to pip Notts by one point. They will play in the Division 1 playoff on 27th/28th April to try to secure promotion back to the Premier Division – Full report to follow.
Left to right – (front row) Claire Weaver, Jo Minihan, Rachel Vickers, Hayley Rogers, Angel Chow
(back row) Dom Ashton, Matt Sprake, Mike Roe (c), Ben Dolman, Dave Edgar
Also playing  but not pictured was Sid Palakal
Len Knight Trophy 18/19
The Len Knight Trophy for 2018/19 took place at Christleton Sports Centre on 2nd December '18. The trophy was presented by Laurence Knight – Len's son. Lawrence spoke of what he knew of the origins of the trophy:
"Len loved sport and followed rugby, cricket, tennis, athletics and badminton. Unluckily for him, his talent as a sportsman was somewhat inferior to his enthusiasm. Although he was a keen badminton player, he never managed to reach beyond the lower divisions and instead devoted his efforts to the organisation and administration aspects of the game. Unfortunately for us, he was a quiet and very modest man and talked very little about himself. He rarely spoke about his wartime service, about his working life, or about his efforts to grow and develop badminton in Cheshire.
I do know that he spent a large amount of time working with both the League and with the County Badminton organisations. As well as attending the meetings and dealing with the constitutional affairs, he organised many tournaments. He particularly enjoyed organising and running the youth tournaments, working with the future of the game. He continued his involvement with badminton administration well into his retirement years.
Another thing that I recall is that he felt that the individual leagues within the County represented something of a missed opportunity in terms of competition.  He also felt that there was insufficient opportunity for league players to enjoy representative badminton. We might be able to play for our clubs in the league but unless you were one of the fortunate few to achieve county colours, then league badminton was as far as it went.
And that is about as much as I know. What I like to think is that he went on to create this tournament to provide league players across the county with the chance to play against their peers. I also like to think that at some point after he retired from badminton, his service to the County was recognised and this tournament was renamed in his honour."
Lawrence then presented the Len Knight Trophy for 2018/19 to the Wirral League, who had 8-1 wins over both the Chester and Crewe Leagues.
County Awards Season 17/18
Arthur Evans Memorial Trophy
This is a very special award, kindly donated by Jean Evans in memory of her husband Arthur. The Trophy has been awarded every year since 1997.
The recipient of this award is chosen by the President, Secretary and the Chairman in recognition of services to Cheshire Badminton.
This year the award goes to a Vice President of our Association and I am delighted to be able to announce that the Arthur Evans Memorial Trophy 2018 goes to ………ROGER WESTMORLAND.
Sadly, Jean wasn't able to attend the AGM and present the award in person, but it was my pleasure to present it in her absence.
In recent years, this award has generally gone to active members of the County but there has been no real reason for this, as the main consideration is that someone has served our Association well, both on and off court.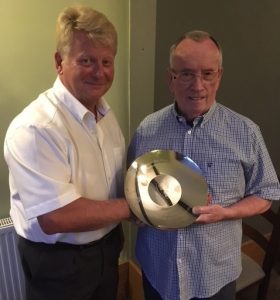 Roger has had a fantastic playing career and was a real ambassador for our County during his many years representing Cheshire and participating on the National tournament circuit.
He was a Council member for 12 years and during that time, held many roles and served on numerous sub-committees including Selection and Team management.
His job then took him away from Cheshire for many years, but he always kept in touch.
A serious car accident sadly curtailed his playing career but never dampened his enthusiasm for the game.
Marjorie Bryce-Smith Trophy
This is a very important award that was first presented in 1964 to Tony Jordan. Annually, each League submits their nomination based on the following criteria: playing ability, service to the game, sportsmanship, club loyalty and turnout.
This year, we had several strong candidates put forward by each of our Leagues, but this person received our unanimous support and I am pleased to announce that The Marjorie Bryce Smith Trophy 2018 goes to  …… ANDY MEREDITH
Andy started playing badminton in the mid 70's at the tender age of 10, when he joined a local junior coaching group.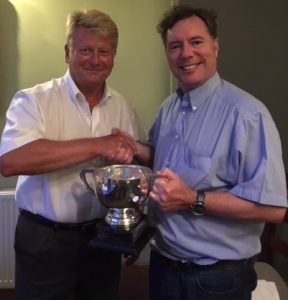 He rapidly began to show talent and then joined his first adult club, Upton BC, playing senior badminton from the age of 14.
In the late 80's, Upton BC folded, and he moved on to St. Peters BC where he is actively involved in all club matters and is affectionately known as 'Mr St. Peters'
He is still there today and turns out, as keen as ever, week in, week out in the Wirral Badminton League.
Over recent years, Andy has become heavily involved with the Wirral League and heads up the Wirral Badminton Development Group, where he is very effectively building up relationships with BE, WBC, local schools and clubs, to promote badminton at all levels but particularly at grass roots junior level.
He was also instrumental in carrying out a survey of all Wirral clubs and players, to gauge opinion and seek people's views on a potential restructure of the League
He puts in countless hours on behalf of these groups and the Wirral League had no hesitation in proposing him for the Marjorie Bryce-Smith Award.