In Memory of Marion Doe
Marion was the secretary of Congleton Badminton Club for almost 40 years.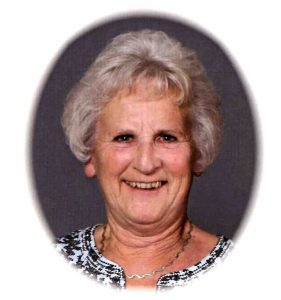 Last year she received the Tony Hickson award for services to badminton (Crewe league) and in 2000, she was awarded the Marjorie Bryce Smith Trophy (County).
She ran the Junior section of Congleton Badminton Club for many years giving up her Sunday mornings to encourage young players. She also organised an annual end of season tournament. In recent years she was responsible for a session on a Wednesday evening with coaching from Andy Aspinal, as well as Ladies recreational sessions at Congleton Leisure Centre.
In the lead up to the Olympics Congleton BC were part of an event held in Congleton to try Olympic sports,  Marion helped to organise the badminton session.
Marion was truly passsionate about the sport, as well as being similarly involved with the tennis club. Her kindness even extended to providing cards and birthday cakes for many club members over the years.
She will be sorely missed.
Cheshire 1st Team Promoted back to the Premiership
I am typing this report using my nose as it is the only part of me that isn't on the verge of cramp… This weekend (27/28th April) was Cheshire's chance to bounce back into the Premiership after the injustice of the 2017/18 season (as you can tell, being the well-rounded individual I am, I have moved past this).
Anyway, on to the present…
As seems to be the case more and more these days, in the weeks leading up to the competition we had a bout of injuries that threatened my positive outlook for the playoffs. However, we were able to call upon a great selection of super-subs so my melodramatic sulking needn't have lasted long! The team was as follows:
Shuttlers: Claire Weaver, Rachel Vickers, Hayley Rogers, Sammy Hutt and Sophie Taylor
Shuttlecocks: Mike Roe, Dom Ashton, Ryan Reynolds (aka Rich Morrissey), Sid Palakkal and Jack Taylor
Match one: Cheshire vs. Warwickshire
Bit of a grudge match to start against a team of man-giants…
As always we started with the men's singles: it was the battle of the long-limbed and ungainly at top singles with myself playing fellow beansprout Andy Wainwright. In two distinctly average quality sets, Cheshire drew first blood and got the first rubber of the match. Going on at the same time was a much more aesthetically pleasing battle at second singles between Sid and Will Kitching, which we were unfortunately edged out of in three sets. However, Jack brought home the final men's tie with a solid two set win. Claire got the women off to a flying start with a dominant performance in her singles, and Sophie was unlucky to lose her match at second. Cheshire go into the doubles 3-2 up.
Dom and I took a little while to get going but sneaked top men's in three sets, with Rich and Jack losing out to a strong pair at second. The women's class shone through with both Hayley and Claire and Sammy and Rach taking their matches. Cheshire had now sealed the tie having won 6 rubbers, but paraphrasing Bruce Forsyth: 'In the County Badminton scene it's the points that get prizes, not the winning of a tie', and there were still two points up for grabs in the mixed.
Mike and Hayley up first, and like a badly oiled and slightly rusty machine that takes a set to warm up, they struggled through before dusting off the cobwebs to take top mixed in three games. Dom and Rach couldn't quite get their match at second leaving the final score Cheshire 7- Warwickshire 4.
Match two: Cheshire vs. Nottinghamshire
Having seen Hampshire brutally dispatch Notts that morning, we were quietly hoping for a convincing win in the afternoon which would help us on our way to the all-important top 2 finish.
I couldn't beat Neil White at top BUT Sid and Jack more than made up for the disappointment by winning their games. Special mention for Sid who showed nerves of steel to save several match points in the second set before fully asserting himself on the game in the third end. In the women's it was another classy display from 'The Cleaver' at top singles, butchering her opponent in two sets. Despite some strong spells, Sophie couldn't take her match against Notts' strong second singles making the score line 3-2 Cheshire going into the doubles.
Mixing up the men's doubles proved to be a good decision which resulted in taking both matches, and the tried and tested women's pairings again brought home the goods meaning a clean-sweep in the level doubles. 7-2 heading into the mixed.
Unfortunately, someone had swapped my legs for lead counterparts which meant that myself and Hayley had a bit of a scrappy time of it at top. It all looked like we'd pulled through, taking the score to match point in the third end before events unfurled in a way not too dissimilar to my mixed quarter final at the 2007 U13 Milton Keynes Gold; needless to say we did not win the match… Thankfully Dom and Rach were on hand to calm proceedings and restore order to bring Cheshire home with a well needed (and deserved) 8-3 win.
This put us in a good position going into the final day, knowing that if we took 4 matches off Hampshire, we would guarantee promotion.
Match three: Cheshire vs. Hampshire
Cheshire came out of the blocks flying, with a win at both first and second singles, with Sid beating Ben Muir in three sets and me pipping Ollie Baczala in three close games. Unfortunately the momentum couldn't be carried on and Jack narrowly lost out in three at third men's. Claire again pulled it out the bag for us and took her game in two sets. Unfortunately Sophie wasn't quite able to follow suit which put Cheshire in the now-familiar position of being 3-2 up after the singles.
On to the doubles and we knew that we were in for a tough couple of games. Dom pulled me through top doubles in three sets and Rachel and Sammy fought their way through at second women's. Sadly, Jack and Rich couldn't quite take their match and Claire and Hayley, despite an excellent performance and taking it to three sets, didn't manage to win theirs.
Heading into the mixed we were 5-4 up so promotion was secured (woop!) but now we turn out attention to remaining unbeaten for the full season. Me and Hayley went first and despite what was arguably our best performance all year, couldn't quite topple the strong pairing of Annie Lado and Ollie Baczala. However, Dom and Rach came up trumps as we have been able to rely on them to do so often this year and brought home the match, and an unbeaten season for Cheshire!
Flitting back to what old Brucey 'said' earlier, despite beating Hampshire 6-5, their goal difference over the course of the weekend was better than ours, so they topped the table and we came second. But WHO CARES? IT'S COMING HOME!!
A massive thanks to all the players, parents and other assorted supporters who have come out for all weekends across the season, and to all the people who I delegated my captain's responsibilities to over the course of the year. It is now official: I am not just the captain that oversaw our relegation, I am the proud captain of our phoenix-team that have risen marvellously from the ashes and are soaring back into the Prem next season.
Now, for the sake of my nerves, can we please stay there…?
So long and thanks for all the fish,
Mike
Cheshire 1st Team win Division 1 North

Left to right – (front row) Claire Weaver, Jo Minihan, Rachel Vickers, Hayley Rogers, Angel Chow
(back row) Dom Ashton, Matt Sprake, Mike Roe (c), Ben Dolman, Dave Edgar
Also playing  but not pictured was Sid Palakal
I am writing this report whilst basking in the glorious smugness of being captain of a table-topping team (spoiler alert). The 23rd and 24th March were the last two days of competition in the 2018/19 Division 1 North season. Cheshire went into the weekend in second place, knowing that a top two finish overall would secure a place in the play-offs and a chance to re-join the lofty heights of the Premiership. Standing in our way were Derbyshire, Staffordshire and Nottingham (who were perched in first).
Cue 'Eye of the Tiger'…
The line-up for the final showdown was a mixture of old and new faces.
In the lady's corner we had: Claire Weaver, Rachel Vickers, Hayley Rogers, Jojo Minihan and Angel Chow.
In the men's corner we had: Mike Roe (dodgy foot), Matt Sprake (man-flu), Sid Palakkal (cut hand), Dom Ashton (dodgy wrist), Dave Edgar (dodgy hair) and Ben Dolman (fully functional).
With our Avengers now assembled, it was time for our first match: Derbyshire…
Cue 'Gonna Fly Now (theme music from Rocky)…
Derbyshire had pulled out all the stops with their line-up, meaning we had to face their full strength team; which, when we needed lots of games, was a somewhat daunting prospect…
The match got off to a great start with Ben taking first singles (Guuuud Ben) and Dom stepping up and taking third singles with ease. Unfortunately, the rest of the singles didn't fall Cheshire's way so we found ourselves 3-2 down heading into the doubles.
Following what can only be described as a disappointing performance at top men's doubles by myself and Matt (our opponent was sympathetically laughing at me…), Cheshire were now 4-2 down; definitely not what we were hoping for! Thankfully, the other members of the team had decided to show up, and after three very gritty performances we were back in the lead 5-4 up.
As sod's law dictates, willing yourself to play well and actually playing well do seem to have somewhat of a negative correlation. This was certainly the case for the top mixed, where myself and Hayley couldn't really find our gears and lost out in two sets. Thankfully, a very professional and composed performance by Dom and Rach at second meant that we took the tie 6-5.
A win is a win, but those few games that we dropped meant that we had a bit of an uphill struggle facing us, especially with our neighbours Lancashire breathing menacingly down our necks.
Cue the theme music to 'Jaws'…
So the afternoon brought a new tie and an opportunity to hopefully get a few more games on the board. Staffordshire had been struggling all year to pick up lots of games and we were hoping that we would match up well against them.
The men's singles came out flying with Ben and Sid taking wins at 1st and 2nd with relative ease. Dom had the unenviable task of playing his literal mirror image (his doubles partner). Sometimes it was difficult to tell whether or not they were playing a match or an incredibly intense routine; unfortunately, the tie didn't fall our way, but we were still happy with being 2-1 up going into the lady's matches. Claire had a tough opponent in the shape of a strong England Junior, but played very well and gave her a good run for her money before losing in two close fought sets. Angel stepped up and ensured that we rounded off the singles in winning fashion by beating their second singles player in three sets. 3-2. Cheshire were up and heading into the doubles where we usually like to assert dominance.
And that's just what we did. Some really good quality and composed performances (particular special mention to both ladies pairs who fought hard to win both games in straight sets) meant that Staffs didn't get another look in and Cheshire stormed to a 9-2 victory. It was with hope in our hearts and hunger in our belly that we headed to the pub that evening for a team meal. We were in with a chance if we played our cards right the next day- a difference of two games in our favour would seal the league.
Cue the theme music to 'Chariots of Fire'…
This is potentially the most stressed I've felt in a sports hall for quite a few years (probably since ICT). We made the decision to put myself in at second singles in the hope that my foot would hold out for long enough; thankfully it did which gave Cheshire a much needed rubber from three in the men's games. Women's singles next and two difficult games on the cards. Claire was participating in a throwback grudge game from the late noughties/ early …teenies…? Keeping the records straight she showed she meant business winning in a decisive three setter. It was now Angel's time to shine and she did so radiantly – winning 23-21 in the deciding set.
Doubles time! Having found our stride against Staffs, me and Matt kept a cool head and took first doubles, with Dom and Dave outclassing their opponents in a straightforward two setter. The ladies doubles next and two very evenly matches games. Claire and Hayley battled hard to win in three. Unfortunately, despite their best efforts, Jojo and Rachel couldn't quite follow suit ad were edged out in three.
On to the mixed. Taking one of the two would mean that Cheshire would come top of the Division. Me and Hayley went on first and were quite thoroughly beaten in two games, not quite having the energy levels to take the match. It all rested in the hands of Dom and Rachel who have been incredibly solid all year. Standing in their way was what can only be described as a pair playing the best badminton they've ever played, Dom and Rach needing to hit the floor twice it seemed to stop the shuttle coming back. In what was an incredibly exciting (and for me, nearly vomit inducing) match, as had always been the case this year for the pair, class shone through and Dom and Rach brought it home for Cheshire; final score 7-4.
Put 'Three Lions' on the jukebox and let's bring those three sheaves of wheat home to the Prem, where they belong.
It's coming home,
Mike Roe – 1st Team Captain
Len Knight Trophy 18/19
The Len Knight Trophy for 2018/19 took place at Christleton Sports Centre on 2nd December '18. The trophy was presented by Laurence Knight – Len's son. Lawrence spoke of what he knew of the origins of the trophy:
"Len loved sport and followed rugby, cricket, tennis, athletics and badminton. Unluckily for him, his talent as a sportsman was somewhat inferior to his enthusiasm. Although he was a keen badminton player, he never managed to reach beyond the lower divisions and instead devoted his efforts to the organisation and administration aspects of the game. Unfortunately for us, he was a quiet and very modest man and talked very little about himself. He rarely spoke about his wartime service, about his working life, or about his efforts to grow and develop badminton in Cheshire.
I do know that he spent a large amount of time working with both the League and with the County Badminton organisations. As well as attending the meetings and dealing with the constitutional affairs, he organised many tournaments. He particularly enjoyed organising and running the youth tournaments, working with the future of the game. He continued his involvement with badminton administration well into his retirement years.
Another thing that I recall is that he felt that the individual leagues within the County represented something of a missed opportunity in terms of competition.  He also felt that there was insufficient opportunity for league players to enjoy representative badminton. We might be able to play for our clubs in the league but unless you were one of the fortunate few to achieve county colours, then league badminton was as far as it went.
And that is about as much as I know. What I like to think is that he went on to create this tournament to provide league players across the county with the chance to play against their peers. I also like to think that at some point after he retired from badminton, his service to the County was recognised and this tournament was renamed in his honour."
Lawrence then presented the Len Knight Trophy for 2018/19 to the Wirral League, who had 8-1 wins over both the Chester and Crewe Leagues.