County Awards Season 17/18
Arthur Evans Memorial Trophy
This is a very special award, kindly donated by Jean Evans in memory of her husband Arthur. The Trophy has been awarded every year since 1997.
The recipient of this award is chosen by the President, Secretary and the Chairman in recognition of services to Cheshire Badminton.
This year the award goes to a Vice President of our Association and I am delighted to be able to announce that the Arthur Evans Memorial Trophy 2018 goes to ………ROGER WESTMORLAND.
Sadly, Jean wasn't able to attend the AGM and present the award in person, but it was my pleasure to present it in her absence.
In recent years, this award has generally gone to active members of the County but there has been no real reason for this, as the main consideration is that someone has served our Association well, both on and off court.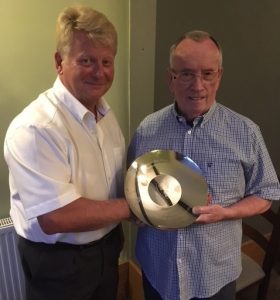 Roger has had a fantastic playing career and was a real ambassador for our County during his many years representing Cheshire and participating on the National tournament circuit.
He was a Council member for 12 years and during that time, held many roles and served on numerous sub-committees including Selection and Team management.
His job then took him away from Cheshire for many years, but he always kept in touch.
A serious car accident sadly curtailed his playing career but never dampened his enthusiasm for the game.
Marjorie Bryce-Smith Trophy
This is a very important award that was first presented in 1964 to Tony Jordan. Annually, each League submits their nomination based on the following criteria: playing ability, service to the game, sportsmanship, club loyalty and turnout.
This year, we had several strong candidates put forward by each of our Leagues, but this person received our unanimous support and I am pleased to announce that The Marjorie Bryce Smith Trophy 2018 goes to  …… ANDY MEREDITH
Andy started playing badminton in the mid 70's at the tender age of 10, when he joined a local junior coaching group.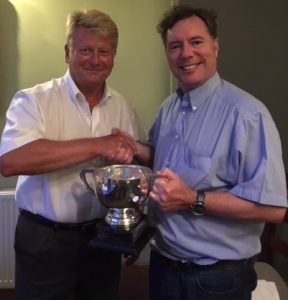 He rapidly began to show talent and then joined his first adult club, Upton BC, playing senior badminton from the age of 14.
In the late 80's, Upton BC folded, and he moved on to St. Peters BC where he is actively involved in all club matters and is affectionately known as 'Mr St. Peters'
He is still there today and turns out, as keen as ever, week in, week out in the Wirral Badminton League.
Over recent years, Andy has become heavily involved with the Wirral League and heads up the Wirral Badminton Development Group, where he is very effectively building up relationships with BE, WBC, local schools and clubs, to promote badminton at all levels but particularly at grass roots junior level.
He was also instrumental in carrying out a survey of all Wirral clubs and players, to gauge opinion and seek people's views on a potential restructure of the League
He puts in countless hours on behalf of these groups and the Wirral League had no hesitation in proposing him for the Marjorie Bryce-Smith Award.
60 Consecutive Seasons of Badminton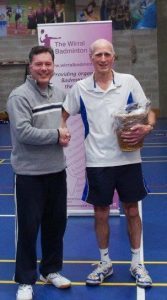 Congratulations to Dave Lloyd on achieving 60 consecutive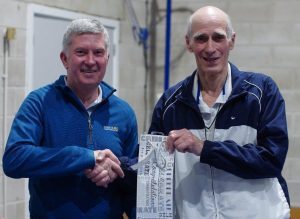 seasons with St Peters Badminton Club.
Dave has been a consistent attender at Club Nights and, when called upon, also played in matches. A presentation of some St Peters brewery beer (what else!)and a match card signed by both teams was made to Dave by Andy Meredith, Club Chairman, before the recent Wirral Division 2 South match with St Andrews Peninsula. The visiting team also kindly presented Dave with a bottle of wine.
We look forward to many more years of Dave's legendary cross court backhand!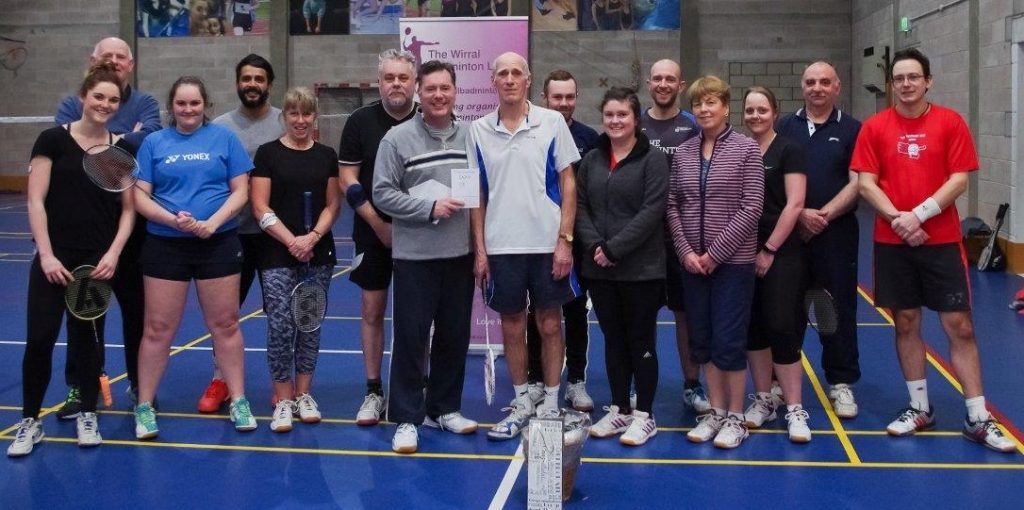 County Awards Season 16/17
Arthur Evans Memorial Trophy
This is a very special award, very kindly donated by Jean Evans in memory of her husband Arthur and has been awarded each year since 1997.
The recipient of this award is chosen by the President, Secretary and the Chairman of the Association and is awarded in recognition of services to Cheshire badminton.
Jean can be seen here presenting this year's award to Annie Minihan, a long serving and loyal supporter of Cheshire County Badminton.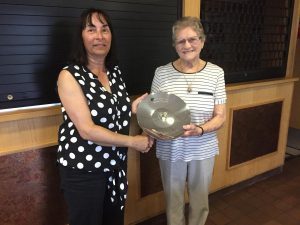 Annie's playing career started in her teens at Mosslands/Weatherhead BC in the Wallasey League and continued into her early twenty's before moving abroad for a few years.
On returning, Annie joined St. James BC in the mid 80's and was a member and club official of that club until they folded a few years ago.
Annie continues to be an active club and County player and has represented the County at many different age groups.
For many years, Annie took on some very important roles in the administration of the Junior County, Schools & Youth Organisation and has always been known for her straight talking and coming up with the difficult question that perhaps others might skirt around or think twice about.
In recent years, she has taken on the thankless and time consuming task of County Registration Secretary and in doing so, provides much needed support to clubs across the County and we are so grateful for this very important contribution.
So, it is my special pleasure to announce that the Arthur Evans Memorial Trophy 2017 goes to ………ANNIE MINIHAN
Marjorie Bryce Smith Award
Each year, all of the affiliated leagues in the County nominate a recipient for this trophy. There are always a number of excellent candidates put forward and this year was no exception.
To recap, the criteria for nomination are: playing ability, service to the game, sportsmanship, club loyalty and turnout.
This year I am not only delighted, but also tinged with great sadness, to advise that the Marjorie Bryce Smith Trophy was awarded to Marion Tullett, our friend who clearly demonstrated all these qualities admirably.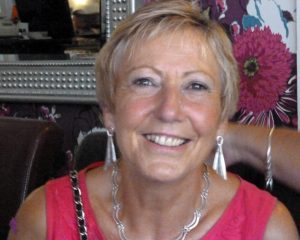 Marion moved into Cheshire in 1979 and started playing for Lache Badminton Club in Chester. Lache BC subsequently amalgamated with Upton in the mid 80's to form Deva Badminton Club which chose Cheshire County Officers Club as its home venue.
Marion was a hugely popular, active and loyal member of Deva BC until it folded a few years ago. She captained several teams and held various positions including match secretary and selector for many years. Without her active contribution the club would possibly have folded a lot sooner.
She was also very committed to the Chester League where she was part of a very successful double act with Wendy Copping as organisers of the League Presentation Evenings and more latterly Marion took on the task single handedly.
Marion not only spread her warm personality and great humour at club and League level but also at County level where she had held the post of League Representative on the Cheshire Council for many years. She also represented the County at Masters level and was most recently involved with helping to manage the O60's ladies.
Sadly, and tragically, Marion passed away before she could receive the Trophy in person but had been advised that she had been awarded the trophy and was excited, proud and very humbled to be recognised in this way.
Marion, had a bubbly infectious character and could always be seen playing with a smile on her face. Her passing has left a huge hole in many people's lives and she will be sorely missed, on and off the court, by her many friends and colleagues.
Our deepest condolences go to her family………MARION TULLETT
CCBA Player of the Year 2017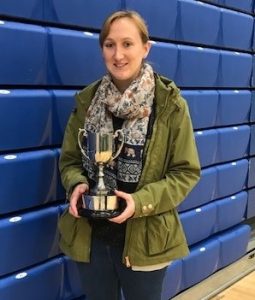 Jen, originally from the White Rose county of Yorkshire, and from a keen badminton playing family, first picked up a racket at the age of 8 and thanks to her Grandfather, a coach from Scarborough, progressed very quickly and represented Yorkshire Schools throughout her junior years.
Continued hard work and dedication saw Jen rise through the ranks and on to play for Yorkshire 1st and 2nd team's at senior level until she moved into Cheshire in February 2013 after finishing her university studies and starting her first job in Knutsford.
During recent years, Jen, an active member of Canute BC and has taken to the courts for both Cheshire 1sts and 2nds and has shown considerable loyalty and commitment to turn out whenever asked and at times when it has involved changing pre-arranged plans to do so.
Jen has brought considerable experience and has significantly strengthened our senior teams and is now a convert to Cheshire badminton. She has become an excellent and dependable team player at both League and County level.
The Player of the Year 2017………. JENNY DAY